About Us…
FAQ: An Interview With Tim Goggin.
Please take a moment to read this before hiring Tim.
| | |
| --- | --- |
| | How long have you been doing this? |

To answer this question, it's best that I share with you how I got started. At 19, while still in college, I was working for my Dad in his packaging business. Our family business had taught me a great deal about running a business and lit my passion for marketing.
The business depended almost entirely on my dad's marketing efforts. He spent years learning how to craft a successful direct mail letter. While he was learning, I was too. I'd review the material he'd purchased from master marketer Gary Halbert. And I'd remember the nuggets of marketing wisdom my Dad would share, from his disdain of non-measurable space ads to how an ellipsis ("…") can make or break your headline.
It was because of this informal study and passion for marketing through the years that I hit upon an entirely new business for my dad one day. This idea would prolong my dad's business for years to come. Let me explain…
…this was during the pre-Google era, when Yahoo, Excite, and Altavista were the key search engines. Getting the right, keyword-rich domain name would almost immediately vault your site to the top of almost all of these search engines.
While searching one day, I found that an astronomical number of people were searching for "cd sleeves". Then I found that a similarly impressive number of folks searched for "dvd sleeves", "cdrom mailers" and other such terms.
I then searched to see if domain names for each of these keywords were available. To my surprise, I was able to snap up the following domain names:
cdsleeves.com
cdmailers.com
cdcases.com
cdromsleeves.com
cdrommailers.com
cdromcases.com
dvdsleeves.com
dvdmailers.com
dvdcases.com
My dad, initially skeptical, was open to this new business but demanded that I spent no money on these sites. The idea of selling CD- and DVD-related packaging was so different from his mainstay of envelopes and mailers that he wanted to spend as little as possible on it.
It therefore fell to me to find a webhost, design the sites myself and design my own shopping cart, all while spending (next to) no money. Working on these sites in my spare time, it took six months to get everything up and running.
I came up with the following design: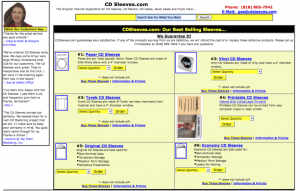 Upon launching all 9 sites, each optimized for their keywords, I was stunned to see the sites vault to the top of almost every search engine. And for the next five years, these sites gave my dad some breathing room. The CD/DVD packaging business was pretty turnkey and they allowed him to not need to work as hard.
The net effect of my CDSleeves experience lead me to conclude that:
I was really good at marketing.
It was really exciting to see your marketing work.
I knew that I wanted to spend my career marketing and that's what I've done since.
| | |
| --- | --- |
| | Why are you specializing in helping small businesses? |

I'm a serial entrepreneur. recessionRebirth is the third company I've started.
Every single one of these business have been small businesses. I know what it's like to run a small business and I know that during this recession, small businesses have it tougher than ever.
Big banks and fiscally irresponsible car companies are getting bailed out left and right but for small businesses, there's no help coming. For all intents and purposes, small businesses are on their own.
And that's why I started recessionRebirth. I'm tired of small businesses closing their doors when there are so many incredible, cheap ways to market their business are out there.
I will accept no marketing jobs from large companies. Besides being poorly run, having a cover-your-ass mentality, big businesses are dinosaurs. Most big businesses have no reason to exist. It's the small businesses where the exciting products and services are coming from.
It's because of all this that I'm not going to wait idly by while great local businesses shut down. I'm going to help as many small businesses as I can.
| | |
| --- | --- |
| | What are the other two companies you started? |

My first business, and the reason I dropped out of college was my list business, List Werks. We sold hard-to-find technical niche mailing lists and offered direct marketing consulting.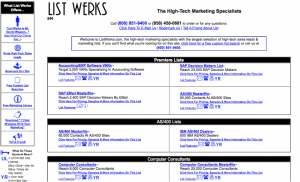 My current company, PocketMac, was created with my brother. We create Macintosh software and even created a new market for BlackBerry devices when we released PocketMac for Blackberry, the first software to give Mac users the power to use their BlackBerry handhelds.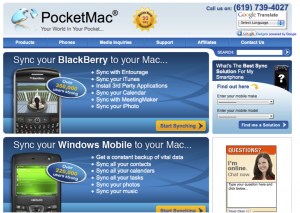 | | |
| --- | --- |
| | What are your marketing results with your own companies? |

Both of my companies, List Werks and PocketMac, thrived despite spending minimal amounts on advertising. I learned to master Google Adwords and a variety of no-cost/low-cost marketing secrets. Additionally, my companies were featured once or many times in the publications shown below…



And many more…
| | |
| --- | --- |
| | What results can I expect? |


You can expect to:
get your company on the first page of Google's search pages…
use customers to get more customers…
get Yahoo! to promote your business for nothing…
fill up slow days month after month…
become the "go-to-guy" in your industry…
convert customers into ardent fans for free…
become a celebrity in your business…
optimize your website for sales and conversions…
boost customers…
increase sales…